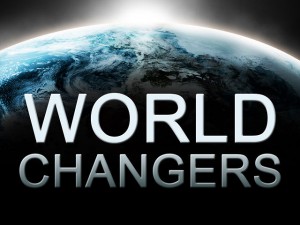 Ok, yesterday I let you in on some of what's been going on in my ministry life and promised updates. So, here goes the first one. Now that we have several structural pieces in place…What's next?
Build World Changers! I love that term.  While I'm not sure who coined that phrase, I first heard it from Ron Luce and have been using it ever since. As we begin moving forward in this new direction one of the keys to success is identifying and coaching students who will make a difference. The great thing is that every kid has the potential. Yes, for some it is more readily apparent and in others we have to look a little deeper. But, I guarantee it's worth the effort.
To take this step we must first describe how we want these students to look when they graduate from our ministry. Take a look at this example based on Sonlife Basics:
Building World Changers!
Based on Making Healthy Disciples/Sonlife Principles:
SALVATION (Winning)
Where we understand:
who Jesus is
the need for repentance
the need to receive the Savior
Knows the biblical steps to salvation and assurance of salvation
Has prayed to receive Christ as personal Savior
BIBLE KNOWLEDGE AND APPLICATION (Building)
we know the Bible truths and doctrine AND
we apply the Bible truths to our daily lives
Understands that the Bible is God's absolute truth
Knows the major Old Testament and New Testament stories and characters
Understands basic Bible doctrines (God the Father, Jesus the Son, Holy Spirit, Bible, sin, salvation, church, Second Coming)
Has learned the essentials for Christian growth (prayer, Bible reading, forgiveness, overcoming temptation, fellowship, witnessing, faith, stewardship of time/money/talents)
Demonstrates Bible truths in everyday life (honest, truthful, thankful, patient, humble)
BIBLE MEMORY (Building)
we are involved in systematic Scripture memorization
we understand, memorize and apply God's Word
Participates in a Bible memory program
Has memorized key verses and passages (plan of salvation, 10 Commandments, Great Commandment, Psalm 23, Lord's Prayer, Fruit of the Spirit, Armor of God)
Knows books of the bible
HEALTHY RELATIONSHIPS (Building)
A. Personal: one-on-one
we establish and build one-one-one relationships
Respects and obeys parents, teachers and others
Demonstrates loyalty and love for Christian friends
Demonstrates willingness to forgive
B. Corporate: the church
we participate in the life of the church
Understands the privilege of corporate worship, communion and baptism
Actively participates in local church ministries designed for children
WORSHIP (Building)
we participate in genuine worship (praise, adoration and devotion offered to God
Regularly worships the Lord with other Christians
PRAYER/DEVOTIONAL LIFE (Building)
we have a personal friendship with God
we have time alone with God in prayer and Bible meditation
consciously loves God
Prays and reads the Bible regularly
SPIRIT FULLNESS (Building)
we are filled with the Holy Spirit
we recognize that the Holy Spirit guides us into all truth, teaches us all things, and empowers us for effective witness
Understands that the Holy Spirit is a member of the Godhead/Trinity
GIFTS, TALENTS , AND SKILLS (Equipping)
we discover and use our gifts, talents and skills to advance the cause of Christ
Understands God's provision of spiritual gifts for every believer
Demonstrates an interest in being useful to God and others
OUTREACH (Equipping)
we use our lives and our resources to reach other people for Christ
we share our faith and have a great commission lifestyle
Has compassion for the needy and unsaved
Invites unsaved friends to outreach events
STEWARDSHIP (Equipping)
we use our lives and God-given resources to care for others just as Jesus would
we reorder our lives, time, talents and possessions for the purpose of achieving God's mission
Gives an offering regularly
Willingly shares with others in need
CHRISTIAN SERVICE (Multiplying / Sending)
we serve Christ and others both inside the church and outside in the community
Helps at home
Performs acts of kindness to people in need
MISSIONS INVOLVEMENT (Multiplying / Sending)
we participate in supporting and sending church planters and missionaries in order to get the gospel to those who have never heard at home and around the world
Demonstrates a growing awareness that people need to know Christ
Prays for missionaries
Financially participates in the Global ministry
As we move forward using the description above as our desired outcome for students will drive all of our decisions. When we talk about curriculum, Bible studies, small groups, etc. this description will stand as a frame work for where we need to go. When we begin planning events the question will be: How will this event move our students toward the desired goal? Now we have a target lets hit it!