I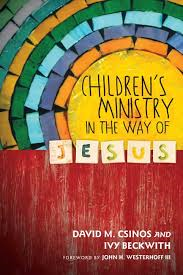 was recently asked to read and write a review of "Children's Ministry in the Way of Jesus." I am glad to have had the opportunity. Within the pages of this book David Csinos and Ivy Beckwith take a fresh look at the why and how of Children's Ministry. Rather than lament the changing culture in which we live they encourage those involved in Children's ministry to adapt our approach to how we engage children in ministry.
In the book they lay out the need to engage children's hearts, minds and imaginations in order for ministry to occur. The end goal is life-long disciples of Christ.  The book is full of fresh ideas for developing an ecclesial culture where children are actively involved in the life and community of the church. This chapters contained in the book include:
1.

     

The Task of Children's Ministry

2.

     

Authentic Spirituality

3.

     

Formational Discipleship

4.

     

Vibrant Theologies

5.

     

Living Stories

6.

     

Honest Questions

7.

     

Meaningful Participation

8.

     

Radical Hospitality

9.

     

Intergenerational Community

10.

  

Transformative Justice

11.

  

Holistic Lives

12.

  

The End of Children's Ministry
I believe that anyone involved in Children's Ministry could benefit from reading and discussing the content of this book. As leaders we are to be continually seeking the best way to influence others for Christ and in our culture a fresh approach is needed. Set aside some time, read "Children's Ministry in the Way of Jesus" and thoughtfully process how this might improve your approach to Children's Ministry.