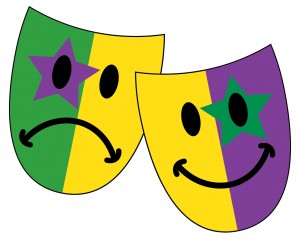 Melodrama – a dramatic form that does not observe the laws of cause and effect that exaggerates emotion and emphasizes plot or action at the expense of characterization
Spontaneous – coming or resulting from a natural impulse or tendency; without effort or premeditation; natural and unconstrained; unplanned
What happens if you combine these two words? You get a short production with no rehearsal and a memorable moment for all. It's really that simple. But, it can be extremely rewarding and FUN. Our kids have loved them. So, how does it work? Simple really.
A narrator reads through the passage and the actors act out the narration. If the script calls for action the actor(s) act it out. If the script calls for speaking the actor(s) repeat the lines. Shakespeare this this is NOT! However it can be extremely fun, memorable and it engages everyone.
It's a fact that children learn and retain more when they are engaged in the learning activity. Spontaneous Melodramas are a great way to get kids attention, keep them focused and help them truly learn the concepts being taught.  The spontaneous melodrama can be an amazing teaching tool that not only helps retention but also leads to action. Plus, they're FUN!
So, now what? Follow these steps:
Select a topic and passage of scripture
Read through the passage multiple times
Determine the number of characters required
Collect props
Go to Class
Select Actors
It's Showtime!
Read the passage with enthusiasm
Have the actors be "over the top" – Have FUN!
10. Follow up with appropriate discussion questions.
Ok, now give it a try.