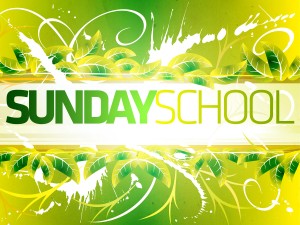 I was recently given the opportunity to review Concordia's Sunday School curriculum for this fall – both "Growing in Christ" and "Cross Explorations" are available. "Growing in Christ" is designed to be a more traditional quarterly age/grade Sunday School while "Cross Explorations" is a Large Group/Small Group curriculum following the same sequence. Both of these approaches share a Biblically strong focus with the opportunity to choose a curriculum that fits your style of presentation. Their touchstone phrase is "Touch Hearts, Change Lives, and Learn Together." Their desire is for the curriculum to touch the hearts of the children and leaders by connecting the word of God to their lives. The phrase "Change Lives" refers to both the Law of God and proclamation of the Gospel that are touched on in each lesson. "Learning Together" applies to both students and teachers as the learn God's story together.
Let's take a look a both:
Publisher – Concordia Publishing House
Website - 

http://www.cph.com/

Cost – Growing in Christ – Varies by number of students; Cross Explorations Starter Kit $135.99
Style – Choose between Traditional Sunday School format or Large Group/Small Group format
Scope – Overview of the Bible in Three Years
Age/Grade – Growing in Christ (age 2 – Adult) Cross Explorations (grades 1 – 6, parents)
Strengths
"Touching Hearts, Changing Lives, Learning Together"
Teach One Central Truth in Two Different Ways
Biblically Focused
Adult Study Available on same material
More material than you can possibly use – freedom to choose
Great Visual Aides – including a time line
Colorful Student Leaflets
Lessons engage and involve children in active learning
Unified Scope and Sequence
Options and suggestions for lesson activities
Ease of Use presentation to help leaders stay focused
Music CD included – music has a traditional children's choral sound
Skits included
Service Projects to help students live out their faith
Podcast available for teachers
Areas to Improve (in my humble opinion)
Music sounds/feels dated
Provide material in Word format to allow for customization
More opportunities/challenges for families to serve together
Optional Children's Church service materials
Concordia has done a great job of giving valuable treatment to two different styles of presentation. The material is also making it a point to encourage families to carry on the conversations at home and challenging them to engage in service outside the walls of the church. The curriculum does a great job of following/teaching liturgy, helping children understand the rhythm of the Christian worship calendar. Teacher guides are well written and would be very beneficial for new or inexperienced leaders. The focus on leader/teacher training is also extremely helpful to the Children's Education Director and a strength of this curriculum.