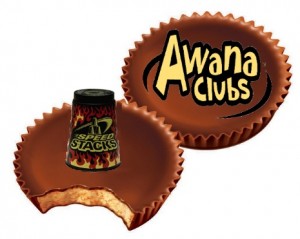 Ok, I admit it I LOVE Sport Stacking. For years now our family and ministry has utilized Sport Stacking with families. Yes, adults and kids enjoy the excitement of competition with one another. One of the great things about speed stacks is that it levels the playing field regardless of age or athletic ability. Anyone can play and compete! Kids, parents, grandparents, teachers…everyone gets into the fun.
As a Family Pastor I also recognize the value of Bible memorization for both young and old alike. One of the programs that we have used the with great success in this area is Awana. Bible memorization stands as the foundation of the Awana program and that has never changed. While Awana has always been willing to adapt their program to reach more kids and families the Bible is still the focus. I love that about Awana.
NOW, we are about to experience the combination of these two excellent ministry tools. Speed Stacks and Awana have entered a partnership being released this fall. We can now utilize the fun and attraction of Speed Stacking to draw more families to church and introduce them to a love for scripture. This is a Win-Win for everyone.
So if it's been a while since you took a look at Awana let me encourage you to take another look. If you've been looking for a way to incorporate Speed Stacks into your ministry take a look. If you've never given either Speed Stacks or Awana a look take one now: