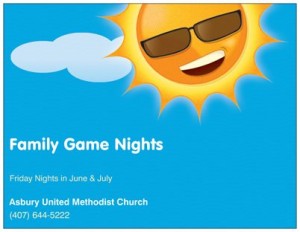 Summer is here! That means VBS, Summer Camp, Vacations and some awesome opportunities to reach families.  Our VBS is held the first full week after school is out. That means we are just 7 days away from VBS! Yea! We will also use VBS as a launching pad for all our summer activities and invitations. Utilizing the contact information collected at VBS and the natural momentum following VBS is a key to a successful summer program. Our hope is to offer low cost and no cost events to help families connect to both the church and each other outside of Sunday mornings.
One of the "new" things we are going to include this summer are "Family Game Nights" that will include light refreshments and an introduction to some great family games. So, I thought I would share some of the details with you:
1. The Goal: get families involved together outside of Sunday morning & offer a easy entry point for new families
2. The Event: Family Game Nights – families are invited to attended together and play together
3. The Place: Kids Worship Room
4. The Snacks: Popcorn & Lemonade
5. The Cost: Free
6. The Invitations: Postcard via Email and Snail Mail
7. The Dates: June 21 & 28, July 19, & 26
Our hope is to give families an opportunity to interact in a very friendly and fun atmosphere. We want to connect adults and kids to others in the church with an activity that will bring a smile to everyone's face. Another goal is to help families find ways to disconnect from the cyber world of cell phones, computers and television with some face-to-face interaction.