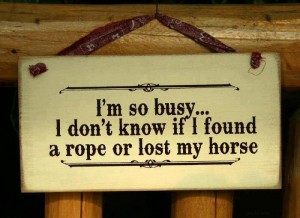 I so often hear ministry leaders say "I am so busy." Sometimes this is said with a voice of desperation and sometimes it is said with a sense of pride. I contend that just "being busy" is not necessarily a healthy thing nor is it particularly effective. With that in mind I want to share a few ideas that can help us get away from "I'm so busy!"
 Stop "Being Busy"
We can all be busy doing stuff, filling up our calendars and creating a false sense of accomplishment with ourselves at the end of the day, but are we actually doing the right things? Being busy can often get in the way of  doing the important things that may really propel our ministry to the next level. Get off the "I'm so busy" treadmill and make some changes.
Set Goals
These goals should be measurable, doable and attainable. Next, place these goals in order of importance. Now, create a list of action steps for each goal. Take the action steps.
Let Things Go
As important as it is to set goals it is equally important to decide what we are not going to do. Some of the goals we tend to set include – exercise more, study more, make more contacts, write more etc. However, it can sometimes be more effective to eliminate tasks, habits and duties.  This can have the immediate effect of freeing up more of our time and energy.
Outsource
We can't do everything! Ask: Is what we are currently doing a good use of our time?
As ministry leaders we often wear multiple hats. We write, design, teach, recruit, train, direct, publicize and administrate. But the idea that we can do everything is a trap!
Join the internet revolution with sites like – Fiver.com, Guru.com & Elance.com. These sites provide a vast array of cheap priced talent for hire for Design work, Audio/Visual, Banners, Postcards, Flyers & even Virtual Assistants.
SWOT
Business leaders typically do a SWOT on their business which is certainly an excellent diagnostic and planning tool. If you are unfamiliar with the practice of SWOT check out this sitehttp://en.wikipedia.org/wiki/SWOT_analysis. This tool, SWOT = Strengths, Weakness, Opportunity, Threats, is often used for strategic planning. So, run a SWOT on yourself. This tool will help determine what we are good at and where we should be seeking the help of others.
Positive People
Some people are just a drain on our personal resources. We should not invest too much time or energy on people who suck the life right out of us. We should find people who inspire, invigorate and challenge us and then invest our time with them.
Be interesting
People like to be with interesting people. Become interesting! Be well read, participate in interesting activities, engage in your community. As we become more interesting other interesting people will desire to be around us.
Be yourself
"Be yourself, everyone else is taken." Oscar Wilde