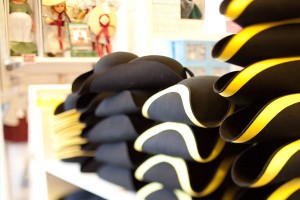 Hats – Hats – Hats – Do you own a collection of hats? Why hats you ask? Hats are fun! Hats can be funny! Hats can create a character! Hats can tell a story? Do you remember any famous hats from your childhood?
What about a fireman's hat?
What about a train conductor's hat?
What about a hard hat?
Object lessons are great at helping children remember and experience a story. An excellent object lesson can be the simple use of a particular hat. The use of a hat can spark a child's imagination like few things can.  A child can be instantly transported to a particular location or become intimately engaged in the story based on the use of the right hat.
We can use a variety of hats to create characters in a story: Hard hats – construction workers; Flowered hats – ladies; Beanies – little guys; Baseball caps – grown men; Fedoras – detectives ; Cowboy hats – you get the idea.
Kids love costumes and hats are a simple way to wear a costume. Hats can be used by the storyteller or they can be worn by volunteers to create a live-action story filled with interesting characters. Be creative an liberal with the use of hats.
One of our goals is to tell memorable stories and create interesting experiences for our kids. Hats can create fun memories for everyone involved. Also, the next time they see a similar hat it will remind them of the story we told.
So, do you have a collection of hats? No? Well, make it a new goal to collect hats wherever you go. Thrift shops, Goodwill, costume shops, etc. are all great places to find unique hats. We can even be on the lookout for a free-standing hat rack for our stage.  Remember make it FUN and make it Memorable!