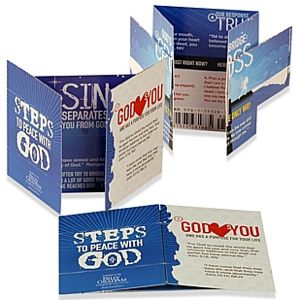 MEMORY CROSS: DESIGNING THE MOST CREATIVE SUNDAY SCHOOL CRAFTS, GOSPEL TRACTS AND SCRIPTURE MEMORIZATION CARDS AVAILABLE TODAY.

Are you looking for something that creatively shares the Gospel and teaches children Bible stories?  Memory Cross is probably the most creative way to share the Gospel and teach children Bible stories, using print that you have ever seen.  The image to the right shows how the card works.  Each card has four panels that make a never ending loop.  The design facinates children and adults and insures that the message gets read and shared.
Pastor Andy Lambert was looking for a creative way to share the Gospel with his children at church.   The result is Memory Cross and in the last five years we have produced millions of cards that have been taken all over the world.  If you have never seen how this card works Andy has created a video that you'll enjoy watching.  We also would like to send you asample pack absolutely free.  Share it with your friends and church staff and see for yourself why we believe this is a great tool for sharing the Gospel.
Featured Products This Week:  The 12 Disciples of Jesus.  Who were Jesus' disciples and why help children learn their names?  The 12 apostles were the leaders of the early church.  Their lives help children learn about the Christian faith.  This card contains the names of all twelve disciples.  Each panel has three apostles making it easy for children to quickly learn the names.  There is also scripture references on each card.
Christian Tracts - We just release a new tract titled "Ready for some Good News."  Here is one comment about Memory Cross tracts:  "Our church has experimented with tracts in the past at various children's outreach events. Most of them get tossed aside and never read.  The one tract that seems to captivate the attention of the kids (and parents) is the Memory Cross card. It is creative, innovative, and most of all biblically sound and gospel-centered. I want Christians to realize the treasure they have in this product for child evangelism. There is nothing better."  Derek Combs  Pastor Jessieville First Baptist Church
---
What people are saying:
"I showed them to all I came in contact with and got the same reaction.  I even took them to work and showed them to some nonbelievers.  Their response was no different.  One lady said, What a great way to get the Word out."  – K. Williams, Kansas City, Mo. 
"Cool!! What a unique, well thought out way to share Jesus with nonbelievers."  – Lori.