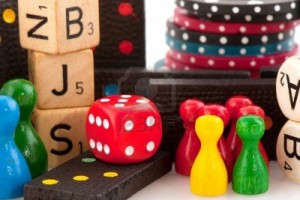 Do you play games with your kids? Of course, most of us play those games on Sunday morning or Wednesday nights that have some tie-in to our lesson. I'm talking about a totally different type of games today. In our house we have a long history of playing board games. Yes, that's what I wanted to share with you today: Board Games.
One of the favorite activities in our house is gathering around the dining table and breaking out a board game. Now, when most people hear the term board game they immediately think of Monopoly, Scrabble, etc. While  those are definitely board games, believe it or not there is a whole world of games out there that you may not even have heard about yet. I'll be sharing some info on those types of games today. But, first you may ask WHY?
Well, here are a couple of really great reasons that board games should be a part of both your family and your ministry:
1.  Bonding – How about this "play" on words – the family that plays together stays together…it's true. Interacting while doing something fun with your kids is a key to growing a close relationship. The laughter, competition and conversation had around the table can be long-lasting memory makers.
2.  Life Lessons – Board games can very often teach important life lessons – sharing, planning, sportsmanship, patience, etc. Taking risk and negotiation are certainly two life-skills that can be learned from playing games.
3.  Education – Playing board games definitely are a fun way to enhance a child's education. Reading, reading comprehension, math, and application are all a part of any self-respecting board game. Business, History and Science can also be important elements within certain board games.
4.  Budget – investing in board games is a great way to extend your entertainment budget. They are also a way to get kids away from a screen (TV, Computer, Cell Phone, etc.) without breaking the bank.
Those are just a few significant reasons I think board games have great value. I mentioned earlier that there are some games out there of which you might be totally unaware. Next time I'll share some of those for you to check out.  Leave a comment and tell us about your favorite games!