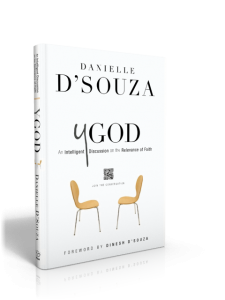 "Faith is a dynamic thing, a lively thing, of asking questions and finding answers." – Danielle D'Souza
In Y God, Danielle D'Souza shares thoughts on 32 interesting questions that are asked about God. This is really a conversation where Danielle shares her thoughts and observations. It is apparent that these faith questions are addressed by an individual who is young in years but grounded in faith. Have you ever had questions about God? Well, sure we all have. Y God speaks to all of us who at one time or another have questioned our faith and God himself. Some of the questions that Danielle tackles include:
Is faith reasonable?                       Are miracles really possible?
Is the Bible literally true?               Is God the author of morality?
Are other religions false?              Is America a "Christian nation"?
Does anyone deserve hell?         Why do people become atheists?
Is science at war with religion?   Is evolution compatible with the Bible?
If Jesus did exist, who was he?  How would Christianity change my life?
The book comes across in the type of conversation shared by teens everywhere – tweets, websites and text vernacular of IDK and IDC. D'Souza is a high school student with a faith that is shared with both a fresh perspective and a language that will speak to teens and adults. The blog style in which she writes and source materials that include Wikipedia and Yahoo is truly relevant to today's students. How about YouTube as a reference? The discussions I have with my own teens certainly often include material from these same sources. This is not a text built on definitive research but truly a conversation that demonstrates that her generation is NOT AWOL when it comes to matters of faith.
I would highly recommend this book as a platform for discussion between parents and teens – youth leaders and teens – and anyone who cares to discuss matters of faith with this current generation of students!