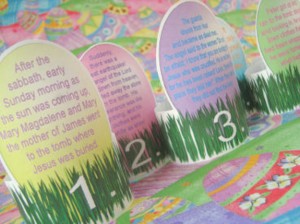 This past Sunday morning I was dumbstruck by a comment made by one of my students. I know what you're thinking, "Keith unable to speak? No way! Well, it's true. We are in the midst of a study on the Resurrection of Christ that includes a look at Judas, Peter, Mary Magdalene and the Disciples. It's been a great study and our students have been fully engaged throughout the series.
On this particular Sunday morning we were playing a group game titled "Easter Zoom In." We displayed photographs that were zoomed in so far that the picture was obscured to the point that it was unrecognizable. Then we would progressively  zoom out until the picture was completely clear. The object of the game was to be the first team to recognize and shout out the name of the Easter item.
Our photographs included an Easter basket, Peeps, a chick, Easter eggs, a lily and other traditional items. The competition was fun and fierce between the boys and girls. As we progressed through the game it was apparent that the kids were engaged and could recognize the items pretty quickly before ultimately the clear photo was presented.
It was our final photo that caused me to be surprised by a comment by one of our regular attenders. This child is in a family that attends, on average, every other week and has basically grown up in the church. As our last photo was posted and eventually recognized it was "The Empty Tomb." This child turned to me and said "What's a tomb got to do with Easter?"
I tell you I was momentarily speechless. It would appear that the secular world has done such a great job of "stealing" Easter that even our some of our own kids are confused. This comment reminded me that we are in a constant battle for the hearts and minds of our children. It also reminded me that even good or even innocuous things can be distraction for our children. What do think? Leave a comment and get the conversation going.