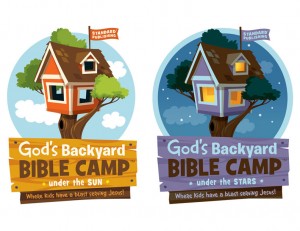 Today we take a look at our third VBS review for 2013 – "God's Backyard Bible Camp" from Standard Publishing. I'll let you know up front this is one of my favorites for 2013!
Standard Publishing
Overview
Lesson 1 – Serve Family
Under the Sun – Miriam took care of her brother Moses – Exodus 2
Under the Stars – Joseph forgives his brothers – Genesis 37, 38
Lesson 2 – Serve Friends
Under the Sun – Four men carried their friend to Jesus – Mark 2
Under the Stars – Jesus washed the feet of His disciples – John 13
Lesson 3 – Serve Neighbors
Under the Sun – A Samaritan man helped a hurt neighbor – Luke 10
Under the Stars – Rebekah showed kindness to Abraham's servant – Genesis 24
Lesson 4 – Serve Community
Under the Sun – Zacchaeus gave to his community – Luke 19
Under the Stars – Gideon led God's people in battle – Judges 6, 7
Lesson 5 – Serve Jesus
Under the Sun – Peter & John showed Jesus' love and power – Acts 3
Under the Stars – Paul told about Jesus wherever he went – Acts 27, 28
Setting – Under the Sun or Under the Stars in your Backyard!
Message – Where kids have a blast serving Jesus – "Kids take the love of Jesus into their homes, neighborhoods and communities" learning to serve their families, friends, neighbors, community and Jesus under the sun and under the stars!
Focus - Service, Bible Content, Evangelism and Application
Strengths:
Excellent Director's Guide – filled with tons of help
Planning & Music Disc Set
"Intro Activities" for each day's Bible lessons
Strong Bible Content
Backyard Bible Pals are super cool reminders
Service Projects – "outward focus" on living what you learn
Small Group "guided conversation" and Crew Review
"Point to Jesus" at the end of each lesson – excellent!
Reading directly from the Bible is encouraged
"Daily News" pages are great encouragers for volunteers
Music by Yancy is great – Kids will love it!
Fun, doable crafts
Areas of Improvement:
A "Take Home" Family discussion piece would be a great addition
More contemporary look to the Bible Story posters
Standard Publishing – "Each day – or night – in God's Backyard Bible Camp kids will see God at work in the lives of Old and New Testament Bible people and realize that God's promises are for us too!" The strong outward focus of these two VBS programs is really attractive to me personally. Teaching our kids to serve at an early age is critical to their spiritual grow and "God's Backyard Bible Camp" is an excellent tool.
The most difficult part of "God's Backyard Bible Camp" may be choosing between Under the Sun" and the "Under the Stars"! Included in the Director's Guide and Cd are several format options that could be used for a second "Backyard Bible Camp."
"God's Backyard Bible Camp" is an excellent choice for VBS with a strong outward focus on serving and evangelism that includes strong Bible content. You can't go wrong by choosing either "God's Backyard Bible Camp" Under the Sun or Under the Stars!