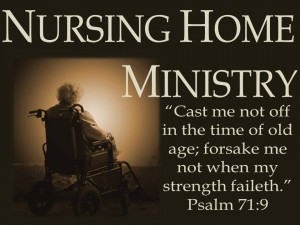 I thought I would share about a "new" ministry we are beginning for our Children's Ministry – a Nursing Home Ministry. Yes, as America ages the need for Assisted Living care has mushroomed and we see it as an opportunity for our kids to grow while be a blessing to others. If you have ever visited a Nursing Home you know there is a need and our goal is to meet that need.
Our goals our really simple:
Be an encouragement to the residents
Provide a unique opportunity for our kids to serve
Share the love of Jesus
Worship – A portion of our upper-elementary kids are engaged in leading worship for our Children's Ministry and we want to extend their influence.  As a part of this new ministry our worship team will lead worship at the nursing facility each time we visit. We see this as an extension of their current ministry and one that will help them grow as leaders.
Balloon Twisting – our kids love balloon art – most kids love balloon art – most adults love balloon art. Most senior adults love interacting with kids. We hope to combine these elements to give our kids a very tangible way to engage the residents in conversation. Our kids are learning how to twist basic shapes and will then have an opportunity to share their talents with the senior adults. Our hope is to provide smiles and build relationships through a creative and fun atmosphere.
One of the goals of our children's ministry is for kids to develop a love for others that leads to heart of service. The Nursing Home ministry gives them an opportunity to be a blessing, serve and encourage others. I'll let you know how it goes.