Content
Theme
Music
Ease of Use
Value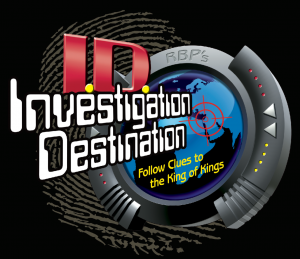 Our first VBS review for 2013 is Investigation Destination from Regular Baptist Press. RBP has done an excellent job with the content and creative materials of this 2013 VBS Kit – if this is your first exposure to RBP and VBS is on your horizon this would be a great opportunity to explore their materials.
Investigation Destination
Regular Baptist Press
Overview
Lesson 1 – Code Name: Worship – The King's Birth – Matthew 2 – Jesus is King and worthy of worship!
Lesson 2 – Code Name: Power – The King's Power and Love – John 6, Mark 10 – Jesus is the King and His power and love are trustworthy!
Lesson 3 – Code Name: Praise – The King's Triumphal Entry – Matthew 21 – Jesus is King and worthy of praise!
Lesson 4 – Code Name: Love – The King's Death – John 18, 19 – Jesus is King and the Savior of those who believe in Him!
Lesson 5 – Code Name: Alive! – The King's Resurrection and Return – John 20, Acts 1, Revelation 22 – Jesus is alive and will return someday for believers!
Setting – Secret Agent Command and Control Center
Message – "With Investigation Destination, students become secret agents sent out on important missions to discover clues about a special person, the King of Kings. Together you will investigate Scriptural eyewitness accounts of the King in action."
Focus – Evangelism, Bible Knowledge and Application
Strengths:
Strong evangelistic emphasis
Solid Bible content
Exceptional mission project
Director's Book is a great tool
Planning Calendar Included
Tips on screening volunteers included
The Bible Point is well reinforced
Crafts are affordable, doable and FUN!
I love the puppet – Tracker the dog
Special Needs children are addressed
Children are invited to receive Christ as Savior
Follow-up Materials
Areas for Improvement:
Opening and Closing
Music – could use a more contemporary sound – be less choral
As you prepare for VBS Regular Baptist Press' Investigation Destination is definitely worth a look. Feel free to contact us with any questions or leave a comment.