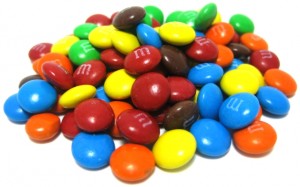 It's Christmas Eve and we are making final preparations for our Christmas Eve service. Our family tradition is to attend the service and then ride around looking at Christmas lights all over town. It is amazing how different and incredible some of the light displays have become. Today I am also planning our Elementary Christmas party for next Sunday.  Yes, our Christmas party is going to be after Christmas. We wanted to complete our Advent study and with a fifth Sunday it seem like a great idea to do something unique.  That's where the M&M Nativity Legend comes in…I am unsure of the original author but it's a great reminder for kids and those of us who love M&M's (that would be me)! So, here you go…
The M&M Nativity Legend
As you hold these candies in your hand and turn them you will see
The "M" become a "W," and "E" and then a "3."
They tell the Christmas story, it's one I'm sure you know.
It took place within a stable, a long, long time ago.
The "E" is for the East, where the star shone O so bright.
The "M" is for the Manger – here the baby Jesus slept that night.
The "3" is for the wise men bearing gifts, with haste they quickly came.
"W" is for worship, an angelic choir sang praises to His name.
So as you eat these candies or share them with a friend,
Remember the true Spirit of Christmas and never let it end!