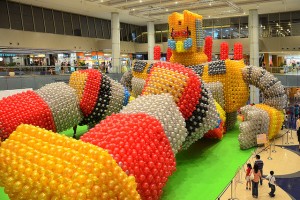 Yesterday I had a great time twisting balloons for kids.  Yes, I said twisting balloons! As I have mentioned before my children and I have taken up the hobby of balloon twisting. For the newbie, that's taking a long, narrow balloon and twisting into recognizable shapes – dog, horse, turtle, sword, etc.  We've been doing that on and off for a couple of years. It's great fun and always makes people smile.
Well, I recently received an invitation to be a part of a ministry to families in the midst of financial crisis. A local church teamed with a local organization to provide food, Christmas gifts and a fun time for pre-registered families. The kids also had the opportunity to play Christmas bingo, "shop" for gifts to give their parents, get a temporary tattoo and more. I was part of the more…twisting balloons for kids. This was the first such opportunity I have had to twist for a large group.
Wow! From the time I set up until they were ready to turn out the lights I was twisting balloons like crazy. A line formed immediately and never went away. This gave me an excellent opportunity to meet kids and parents throughout the event. Everyone was excited about the balloons and extremely complimentary when they received their balloon creation.
My take away from the event was…Do it again! I hope to find more similar events within our community to connect with more families. I had as much fun as the kids and I loved all the smiles. I would encourage you to consider taking up the hobby.  It's fun, inexpensive, and easy to learn.
To get started purchase a bag of a hundred 260 Q balloons, a pump and check out the teaching videos on YouTube. For less than $20 and a few hours of practice you'll have a new way to connect with kids and families.  Oh, and did I tell you… it's FUN