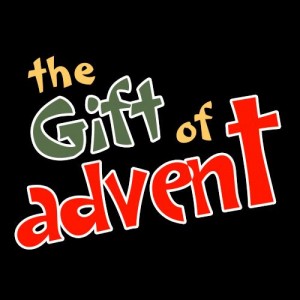 I recently received a package from the Go Fish Guys that included a copy of their new Christmas project "The Gift of Advent" for review. Honestly, I am always excited to get new stuff in the mail – if you've got stuff send us some! (I know that was a shameless request)  It's especially fun when you know the creators of the product have a history of producing great stuff.
Christmas is such a great time to reach and teach the story of Christ in a fresh way.  Just about everyone and everything is focused on Christmas – even if some are not even familiar with the true story of Christmas.  That's where we can step in and enlighten some while reminding others of the reason for the season. "The Gift of Advent" is an excellent tool that we can use to accomplish our goals for Christmas.
The Lessons – I love that the teaching starts in Genesis and helps kids to connect the dots as to why we need for a Savior. The lessons are well planned and include a Large Group – Small Group format.  This fits well with our "normal" Sunday mornings and makes plugging in a special series very easy to do. The games, crafts and activity sheets are all very well done and will be fun for our kids.
The Music – Hey, it's the Go Fish guys – 'nuff said (quick Marvel reference for the superhero in all of us). As always the music is excellent, accessible, and fun! The redux of the  hymns is especially attractive to me and fun for the kids.  Do you keep seeing that word fun? That's a key quality in reaching kids and keeping them connected.
The Videos – The graphics are great and animation is top-shelf. Again, I could use that word…FUN!
The Format – The material is available in multiple formats DVD, MOV HD, WMV HD, MPEG-1 SD…maybe even FBI and CIA (just kidding). The CD-Rom lessons, Manuals, Craft Sheets, and more are printable and emailable.
For me this is a great Christmas package and we will be using it this December.  Thanks to the Go Fish Guys for putting together another high-quality product that is a great curriculum addition and it's FUN!
P.S. Thanks to the Go Fish Guys as they are giving us a complete "The Gift of Advent" package along with a 20-Pack of Music CD's to give away to one lucky CM Buzz reader.
 The Gift Of Advent is a four-lesson large group/small group curriculum designed to give children a biblical understanding of Christmas…from the garden – to the manger – to the cross.  Each lesson focuses on a new gift that comes as a result of God's ultimate Gift – Jesus!  Your church will love this fresh, gospel-centered approach to a timeless story!