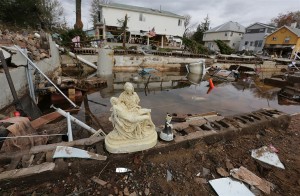 This morning I saw the first photos of Staten Island following hurricane Sandy's ripping through the area. There was incredible devastation and loss apparent in the photos. This hits home for me as we have friends who serve at Church at the Gateway on Staten Island.  While we have been in contact multiple times following the hurricane the photos brought it all home for me.
Thankfully our friends, the Mercaldos, are safe and have had minimal damage to their homes.  Also, the church facility was not impacted by the storm with the exception of loss of power.  They are working to help as many people as possible affected by the storm as they all work together to provide basic needs to others.
One way they are endeavoring to help is by opening the doors of the church to serve as transitional housing. Specifically they are providing shelter for those who have lost homes including seniors and individuals with special needs.  This truly demonstrates the heart of the church leadership and their love of people.
My commitment, as I sit here safely in McDonalds, it to continue to pray for wisdom for every individual in a leadership position there in the city.  I am also asking you to pray with me for everyone involved. Our intercession can make a difference.
Next, I would encourage each of us to ask: "What can I do to meet the needs of my community?" Almost, without fail we step-up in times of great need to help others. My challenge to each of us is to ask "What are the day-to-day needs that I could work to meet right now?" When we as believers meet the needs of our communities it opens the door to demonstrate the love of Christ to others.
Every community, every city and every state has areas in which we could help once we recognize the need.  Ask the questions…seek out the right people…fill the gap. What are the areas in which you could help?