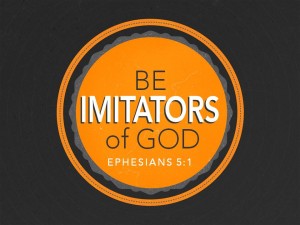 There seems to be a standing rule in the showbiz industry and that is, "Never work with children or animals."
WOW! It's this kind of statement that make me so relieved to be involved in Children's Ministry the way I am. Besides, anyone who is or has been involved with Children's Ministry will tell you, it is much better than show business anyway!
I love watching talent shows and the way they tend to throw up the wide spectrum of characters and acts. One of my favourites is always the imitators. However, I truly believe that children tend to make the best imitators, regardless of their age. They are constantly watching their parents, adults in church and teachers to see what they can do.
But this got me thinking: the disciples only ever did what they saw Jesus do and Jesus only ever did what the Father told Him to. So in this process, we have imitators going way down the chain. With the disciples, they spent three and a half years with Jesus, day in and day out and so it became a natural action to do exactly what Jesus was doing.
However, in the world we live in today, children can be easily distracted with so many different things and so many different people that simply imitating the way something is done is no longer an easy process. They pick up "bad habits" along the way and this is not intentional but merely how the world tells them it should be done.
But, as parents and as Children's Ministry teachers / volunteers / leaders (whatever our capacity is), we are constantly trying to live a life pleasing to the Father by imitating Jesus and trying to be more like Him every day. If this is indeed what our children see, then imitating it should become a little easier than before. May we always remember Ephesians 5:1: "Be imitators of God, therefore, as dearly loved children."
In working of a quote I remember from a while ago, as we have established that children make the greatest imitators, then it is our responsibility that we must give children something great to imitate.