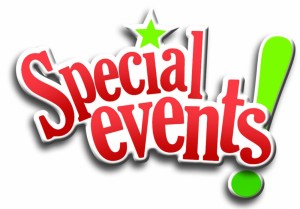 Kids love special events and they can be great attendance boosters as well as give kids a chance to invite a friend.  Sometimes when we have a small group or small budget we think that special events are out of our reach.  I think all of us can host FUN events that cost very little, yet can pay BIG dividends!  Here are Five Special Events Anyone can HOST:
Super Bowl Sunday – OK, I admit I'm a football fanatic and this is a sacred holiday for me! Invite kids to dress up in their favorite team's colors and play football related games. Have snacks, contests and a whole lot of FUN!
Circus Day – decorate your room like a Big Top with lots of colors and balloons.  Learn to juggle, spin plates or balloon twisting then teach the kids. Invite them to bring their pets in costume and let them show a trick and do a pet parade.
Chocolate Day – chocolate ice cream, chocolate milk, chocolate candy bars…you get the idea. Play games that involve candy and watch "Willy Wonka and the Chocolate Factory."
Bring-A-Friend Day – encourage every child to bring a new friend to church and play games that involve pairs. Have a gift bag for each new friend.
Slime Day – kids love to be messy. There are many ways to create cheap slime. Slime is cool and it is FUN! Create messy games that allow kids to just go crazy.
Special Events create enthusiasm and start a buzz about our ministries. Don't let budget or size be a stumbling block when you hear the words "Special Events." Get creative and set a goal to host a number of these type of events. What are you favorite "low-cost" events? Which ones have you used to build excitement? Share your great ideas by leaving a comment.