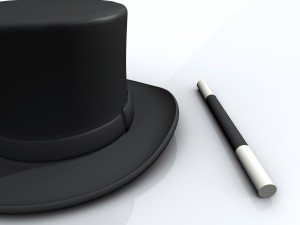 Earlier this week I shared how I got my start in magic and a brief "why" for Gospel Illusions.  Today I wanted to share with you some of my favorite resources that have helped me as I've grown in the art of Gospel Illusions. This is hardly an exhaustive list, just a few of my favorites.  However the books and videos listed in this blog will give you a great foundation for becoming an excellent illusionist!
BOOKS
Mark Wilson's Complete Course in Magic by Mark Wilson
Greater Gospel Magic by Duane Laflin.
Illusions and Truth: Routine Book Number Two by Duane Laflin. Gospel illusions routines (June 2002).
Tarbell Course in Magic, Vol.1. (by Harlan Tarbell) edited by Ralph W. Read. Published by D. Robbins & Co., Inc.1999. For the Professional, Amateur and Beginner.
Spiritual Applications for Tarbell 1, written by Jule L. Miller. Published by D. Robbins & Co., Inc.1995.
VIDEOS
The Art of Gospel Magic – WOW! These are from one my favorite Gospel Illusionist – Duane Laflin. He is also my kids favorite illusionist of all time – above David Copperfield or Criss Angel. This set that Duane has created is well worth the money. It includes the WHAT – WHY & HOW! This is a must own for anyone interested in Gospel Illusions! Check out the Laflin Magic store at www.laflinmagicstore.com
Why Do My Best For God? by Duane Laflin. A Gospel presentation.
MAGIC SUPPLIES – Always support your local Brick & Mortar Magic Store!
Laflin Magic Store – www.laflinmagicstore.com
Creative Arts Store – www.creativeartstore.com
Barry Mitchell Products – www.barrymitchellproducts.com
I hope these resources will whet your appetite and draw you into what I have found to be a very rewarding ministry tool!