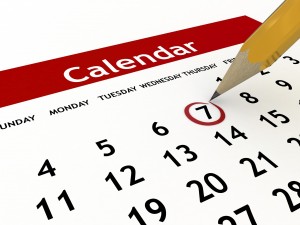 Following up on yesterday's "Back-to-School" post let's talk about the annual calendar.  Have you created one? Reviewed it lately? What about spending some time either creating one from scratch or critiquing the current 2012 – 2013 calendar? Take a look at these steps and let us know what works for you:
Purpose
What is the end-goal for this season? There are five core elements that we need to incorporate: evangelism, fellowship, discipleship, ministry and worship. How these are fleshed out throughout the year is determined by how we develop our ministry calendar.  Looking at each program, class and event with the purpose in mind will shape our decisions.
Programs, Events & Meetings
Review what went well last year along with what wasn't quite as successful as we had hoped. Honest critique is one our best allies in planning for the future. If we plan each program and event with a purpose in mind it is much easier to evaluate it's effectiveness.
Write it Out
Now let's take the physical calendar and place the weekly, monthly and annual events on the actual calendar. What jumps out? Are we over scheduling? Is there balance between the week-to-week and "Big Events" planned? What about costs? Do these events fit within our budget? Will we need additional funds to accomplish our goals? What about costs for the average family in our ministry? All of these factors need to be considered and discussed as we move forward with the planning. Evaluate and Critique relentlessly before settling on the final dates for each program or event.
Bring On the AXE!
We have a natural tendency to OVER-SCHEDULE. How does the planned schedule affect our families? Volunteers? Staff? What are the non-essentials included on the calendar? Could we pair some of these events and be just as effective? Are there some natural connections between these events and things that are already happening on campus?  Cutting away the "fat" can be just as important as anything we posted on the calendar!
Deadlines – Deadlines – Deadlines
Now that the dates are set it's time to "back date" – we work backwards from the event dates to set planning meetings, cost analysis, registration dates, etc.  Creating a calendar of deadlines is crucial to successfully implementing our ministry program. Holding each of us to hard and fast deadlines leads to success.
So, what has worked for you?  What would you add to this planning list? What would you change? Share your thoughts.