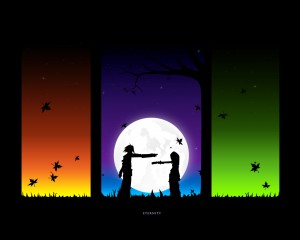 There is a great Israel Houghton song called, "Let the redeemed of the Lord say so," and it starts by asking the question, "What does it mean to be to be saved? Isn't it more than just a prayer to pray? More than just a way to heaven?"
It's a kind of question that really hits home when you listen to it and dwell on it for a second, and it got me thinking, this is a great question to put to the children. But, even beyond that, this is a great question to put out there in general.
I sometimes wonder if our salvation, as a whole is often wishy-washed over by some people (excuse the term but you get my meaning). In doing so, we believe that we have given our life to Jesus and as a result, we are saved. Job done.
This is fine and not a condemnation on anyone. But I would like to ask that we really look beyond where our thinking is at present. The reason I say this is because once we start to look beyond and focus on what our salvation really means, then our children will begin to get a grasp of it also. Surely this can only be a good thing.
With our Revolution team on Sunday we did a craft with them to make a different kind of bookmark for their bibles. First, we did a visual display where we ran a 60ft length of rope from our room to the fire exit at the end of the room. We had approx. 4 inches of the rope taped and the rest was normal. We told them to imagine the taped part of the rope was their life on earth and to imagine the rest of the rope as their eternity. We had watched this on a Francis Chan clip and it proved quite powerful with the children. Their response was really good and everyone had something to say and offer which was what we had hoped for.
Although our lesson was based around the scripture in Philippians 3:13, about pressing on towards the prize, the words of the song above really hit home also. If we stop for a minute and think about what our salvation has earned for us, an eternity with our Father, then we become more likely to make our life on earth more worth-while and more pleasing to Him. In doing so, we automatically setup an awesome eternity (as if it could be any more awesome) for ourselves by default.
So maybe put the question out there and see what kind of answers you get. It really proved worthwhile and really encouraging.