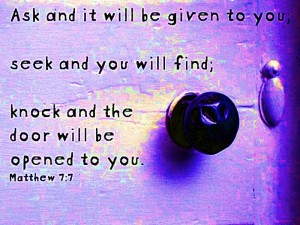 I've discovered ten phrases that can and will change our lives if we apply them.  The next few articles will continue to cover some of these truths and hopefully give you a reason to think for a change as well.
In previous issues we have covered 1. All success or failure in life is based on two things, the people you meet and the books you read.  2. Prior Preparation Prevents Poor Performance.  3. It's not how much you make it's how much you keep. 4. There aren't any rules for success that will work unless you do.  5. "I am 100% responsible."  6. Don't expect a different result from the same action. 7. One person with a vision for change is more powerfule than 100 with ideas.  8. Broken windows may be prevented.  And now 9. Seek and you will find, ask and it will be given to you.
Please forgive me for using these words of Jesus for a business purpose.  I don't believe God intends us to be greedy but I do think this phrase is a powerful reminder of a business (ministry) principle.  I call it the WAG system.  You gotta want, you gotta ask, and you gotta give.
Success in life or goal attainment begins with a dream or goal.  In other words you gotta want to be successful.  Your desire to work toward your goal is exactly equal to your desire to achieve it.  I heard it said like this, "What we can tolerate we cannot change."  That's a powerful statement.  What are we tolerating and therefore not working hard enough to change.  I know I tolerate my physical size, otherwise I would eat less and exercise more.  Put simply, I don't want good health bad enough.
The same logic applies to business.  Many say they want more out of life but their actions don't match their talk.  Speaking of actions, you gotta ask.  If you want to get a date, book a show, or have another cup of coffee, you gotta ask.  One of the biggest myths about business is that it's hard.  It's not hard to succede, you just got to ask for the business.  For most the hard part is finding the courage to ask.  But what do you have to lose?  Everything, you idiot!  If you start a business and don't ask for the sale you'll lose everything you've invested in the business.  Sure, some will buy from you but most likely not enough to keep you in business.
In your business model "asking" is everything you do to build customer awareness and complete the sale.  It includes, advertising, networking, marketing, and closing the sale.  For most, closing the sale is the stumbling block.  As the car salesman says, "What can I do to help you take this car home?"  When he asks that question the buyers answer will determine success or failure.
I believe wanting and asking will make you successful in business (ministry).  Yes, even a bad product can be sold by a salesman willing to ask for the sale.  Not that I recommend bad products.  Just pointing out that the principle works.  But allow me to go on to say that ultimate success includes giving something back to others.  You gotta want, you gotta ask, and you gotta give.  Making the sale will make you a living but giving to others will make a life.  I think this is the true meaning of the phrase, "It is better to give than to receive."  Unselfish giving brings far greater blessings than any amount of money we can earn.  As you plan your career search your dreams, ask for the sale, and give for life.  It's just a reminder to keep us thinking for a change.
And finally a note about these articles.  I fully admit that these are my opinions and I enjoy sharing them.  But I want you to have the option to share too.  If you agree write me, if you don't agree, write me, if you think I should give my writing space to someone else, write me.  Let me know if these ramblings are helpful or otherwise.  I look forward to hearing from you.