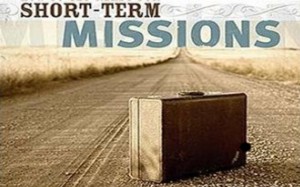 This morning I took my son, Adam, to the Tampa Bay Airport at 6:30 AM (which means we left the house at 5:00 AM!).  He is flying to Birmingham, Alabama to spend his summer serving as a Sojourner Missionary with the North American Mission Board.  Next week I will be taking another one of my sons, Tyler, to the Tampa Bay Airport and he will be flying to Ocean City, Maryland.  He'll also be serving with NAMB for the entire summer. I am really proud of them for committing their summer to serve.
Please pray for them with me.  My prayers for both boys include:
That their eyes will be open to see God's incredible power this summer.
That the Holy Spirit will work in their hearts and through each of them make a kingdom impact.
That their gifts and talents will be a blessing to the churches they serve.
That they will see kids come to know Christ as Savior.
That this experience will draw each of them closer to God.
That they will come home changed by this experience.
Over the years I've taken both teens and adults on short term mission trips.  We have traveled to several major U.S. cities, Mexico, and Africa to serve.  There is something unique and special about getting out of familiar surroundings and serving in new places.  Let me encourage each of us to look for these opportunities and to also make them available to others.  God can do incredible things when we are willing to step out into the unknown by faith and do his will.
What about you? Have you had the opportunity to lead/serve on a short term mission? What impacted you the most?  Would you do it again?  I would love to hear your stories – share them by leaving a comment!