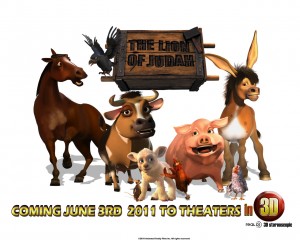 We were recently sent a package filled with great material from our friends at CassCom Media.  Here at CM Buzz we just love going to the mail box and finding cool stuff!!!  Would you like to know what was in the box? "The Lion of Judah"!!!  No, not a real lion…that would be silly.  Besides it wouldn't  fit in our mailbox!  Actually, the box contained a DVD of the movie, a book, and a CD of "The Lion of Judah." Here's a description of the movie from Rotten Tomatoes:
"When Judah the Lamb is taken by the townspeople to become a sacrifice, his six new friends from a Bethlehem stable have to go to his rescue! An incredible adventure follows, full of danger, drama and heroes. Judah's new friends, led by Slink the clever mouse (Ernest Borgnine) and Esmay the motherly cow (Sandy Patti) meet up with Jack (Scott Eastwood), a teen-aged donkey with an attitude! Jack is less than happy to be part of the crew, but when the furry and feathered band of stable animals get separated and need saving, it's Jack who rushes to their rescue. Even the best efforts of Jack and the rest of the stable friends are not enough to save Judah. In this incredible tale of adventure and compassion, it takes the greatest hero of all, The King, to save Judah… and all the other animals, too!"
Take a look at the movie trailer:
It a great movie! The animation is sharp, the story is intriguing and we loved the heart tug that exists throughout the story.  The crucifixion and the resurrection are sure to lead to meaningful discussion.  It's a powerful message told in a creative way.  Two Thumbs Way Up from CM Buzz!!!
The accompanying "The Lion of Judah" Book is also done extremely well.  My 9 year old daughter, Christy, loves the book and I'm sure we'll read it many times.  Let me encourage you to get a copy of the movie and the book for your family and your ministry.