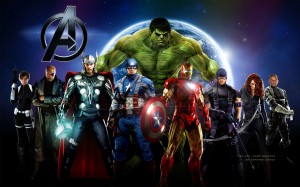 Ok, I'll just admit it upfront – I am a Comic Book & Board Game Geek.  So, today I'm going to share two of my passions followed up with a little reminder.
The number one thing on the agenda in May for my boys and I – The Avengers Movie! We actually set aside Thursday (yes, they got out of school early) to set up a movie theater at home.  Complete with replica Movie Theatre Popcorn Machine and Movie Theatre Candy Station. The goal was to watch all of the Marvel Movies leading up to The Avengers in order – Hulk, Iron Man, Iron Man 2, Thor, & Captain America.  Then we would be attending the midnight showing of the Avengers.  It was a great afternoon into the morning.
WOW! The movie was everything we hoped it would be – Interesting characters, Impossible CG, and Incredible battles. More importantly was the opportunity to experience it together.
Another fun thing we discovered this month – a new show called Tabletop.  Now, you have to understand that we have played numerous board games in our home long before the children arrived.  Tabletop is a show hosted by Wil Wheaton (Star Trek's Wesley Crusher and geek icon) that introduces board games in a creative way.  The show is a "mashup of "Celebrity Poker" and  "Dinner for Five", in which Wheaton invites fellow geek icons to play some of his favorite games. Wheaton's passion and knowledge of board games makes him a great teacher of new games. Second, his guests are so witty and interesting that it makes the show fun. Finally, the show's production value really does give it the feel of being there and just hanging out with friends.
So, what does all this have to do with ministry?  Just a reminder, that one of our goals should be to encourage families to create memories.  Board games at our house become an opportunity to sit around the table and play together.  This opens up conversation and family interaction.  The movies are a time for us to share an experience.  We come out of the theater discussing our favorite characters, scenes and the funniest moments. As we raise our children we can strive to create memories and build relationships that will last forever.  Let's do it.