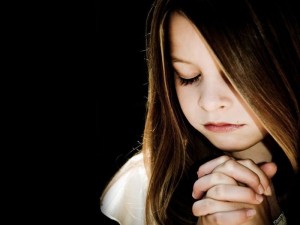 I've been writing about prayer – the wide and narrow road approaches. I've said, "When it comes to our children's ministries, we all know we need to pray, but there is a 'wide road approach' which leads to a shallow walk and a 'narrow road approach' which leads us to a deeper walk with God." Today I want to consider a few ways you can help the kids in your ministry develop a narrow road type of prayer.
I don't want to try and give you a "prescription" or "formula" for kids to follow when they pray. I have found these things only kept my prayers "stunted" and "robotic". Consider trying the following to help kids learn to take the "narrow road approach" and learn to have a deeper walk with God!
Introduce the kids to God, their Father. Look at Exodus 34:6,7 "I am the Lord, the Lord. I am a God who is tender and kind. I am gracious. I am slow to get angry. I am faithful and full of love.  I continue to show my love to thousands of people. I forgive those who do evil. I forgive those who refuse to obey. And I forgive those who sin. But I do not let guilty people go without punishing them."  Ask kids to look at these verses and describe God . . . He is tender, kind, gracious, slow to get angry, faithful, full of love and forgiving! He is also a God Who does punish sin and we need to help our kids understand this as well. Take one of these characteristics of God and focus on it for at least a month – perhaps even a full quarter. Each week ask kids to share how they were able to see and experience God as a tender Father, a kind Father, a gracious Father, etc. Share with them how you have experienced God in these ways – it can be very helpful for you to share how He has allowed you to experience His punishment, too. Focus your prayers on thanking God for His tenderness, kindness, grace, etc and engage the kids in doing the same. Be sure to emphasize any part of your Bible lessons which show these characteristics of God. We want our kids to have a real and accurate view of God, so be intentional about showing them Who God is!
Model prayer which praises God, thanks Him and gets to the point. Do not model lengthy, wordy prayers. Spend some time looking at your memory verses each quarter then personalize them so the kids can pray them to God.
Model praying with confidence! Be excited about the confidence you have in knowing God WILL answer your prayers! Sometimes with the "Yes!" we hope for! Be sure to praise God for those "yeses"! Sometimes God answers our prayers differently than we may have envisioned . . . it may be a "wait" or a "no" or something completely unexpected. Watch for these answers and help kids learn to identify the different ways God answers our prayers. Help them learn to have a confidence God DOES hear and He DOES answer!
We can have the kind of prayers which result in a deeper walk with God – and so can the kids in our ministries!