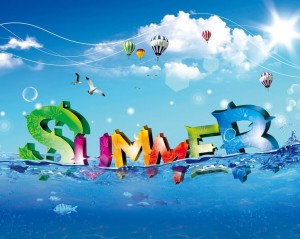 Summer is almost here!  What does your summer look like so far?
Summer Series? Camps? VBS? Day Trips? Vacation? Family Time? Summer is an active time of year for us and I would guess most of you?  So what are the goals?  When the summer comes to an end and you look back what will have been accomplished?   How will you measure success or failure?
One of the things that has become obvious is that sometimes we are busy in the summer to be busy.  Without definable, measurable goals it's hard to determine what, if anything, was actually accomplished with all the activity. Let me encourage you to set some measureable goals now and follow that with critical evaluation at the end of the summer.
So what types of things could we consider for measurable goals?
Attendance – well that's an easy but valuable one – if no one comes to an event or program it can't be considered a success.
New Families – again, obvious – however, it can be overlooked.  Families are looking for things to do during the summer – we can be one of their options.  Take advantage of this natural timing.
Growth – numerical growth, spiritual growth, educational – these are all definable, measurable areas of potential growth.
Start with these three areas and build your own list.  Determine what you believe are the most important areas for this summer. Next, write out an action plan that addresses each of these in detail.  Now, begin to track how you are doing in each area. Once schools starts and summer has come to an end – Evaluate and Critique each area.
Questions to help generate an honest evaluation:
How many kids and families attended each event?
How many new families were involved in each event?
Did we see more attendees this summer compared to the past?
How did we do with follow up contact? Etc.
An honest evaluation of how things went this summer is the first step to planning an even better summer in 2013!