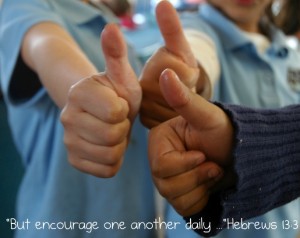 Let's see how inventive we can be in encouraging love and helping out, Hebrews 10:24 (The Message)
As the school year comes to a close we begin to shift into summer program mode.  One of the things that we do during the summer is to give our Small Group leaders the summer off.  One of the reasons includes a chance for them to take a mental and emotional break.  Another reason is to recruit some new leaders to a shorter term commitment – serve through June and July.
With this change comes a natural opportunity to Thank and Encourage these faithful leaders.  I must confess that personally I have to be very intentional about practicing the art of encouragement.  I know for some that encouraging others coming as easy to them as breathing.  Unfortunately I am not one of those people.  I have to work at remembering to be an encourager.
Today I want to share some ideas that have worked for me and hopefully you will share some of your ideas in the form of a comment!
1. Write Notes to Volunteers every week. Today hand written notes are rare and that gives them added value.  First thing on Monday morning sit down and write a specific number of notes 3 – 5 to those that serve with you.
2. Schedule "Encouragement" on your calendar.  Literally make the effort to block out time to make phones calls or visits to volunteers.
3. Remember Birthdays and Anniversaries – There's an AP for that!  Send cards and make personal phones calls simply to say "Happy Birthday" or "Happy Anniversary" on their special day.
4. Facebook – (did you buy stock ???) Yes, this is one way to connect with your volunteers and it can also be used as an avenue of encouragement.
Now I've shared four of the ways that I have used to remind myself to be an encourager.  Truthfully, this blog post serves as reminder for me to get "back on the horse" and be a better encourager for my team.  How about you?  Would you be willing to share some of your best Encouragement Ideas?  Help us all out by leaving a comment!