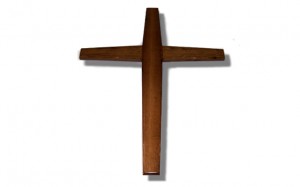 What you need: 2 wooden crosses, any size.
What you say to the kids: Who likes piggybacks?  Me too!  Well did you know that Jesus gives piggybacks?  Let me explain.  You see, Jesus lived on this earth about two thousand years ago.  He taught people about God and healed people who were sick.  But he was more than a teacher and a healer.  He was God's Son, sent to save us from our sins.  So when he said he could forgive our sins, a lot of people didn't like him for that (because only God can forgive sins, and they didn't want him claiming he was God).
Do you know what they did to Jesus?  They arrested him, hit him, and killed him on a cross (show the wooden crosses, image 1).  Now a cross was how they killed people back then who did really bad things.  But did Jesus ever do anything bad?  No.  In fact, he was the only human in history who lived a perfect life.  That's because he was God and human at the same time.  I know, it's a little hard to understand, but that's the only way we can be saved from our sin – if someone perfect dies for us – and that is Jesus.
When Jesus was dying on the cross, there was a criminal dying right next to him who put his faith in Jesus right there at the end of his life.  This man was a sinner (like you and I) who believed that Jesus really was the Son of God and he asked Jesus to remember him.  So Jesus told him "today, you will be with me in paradise" (Luke 23:42-43).
So that criminal died next to Jesus, but because he put his faith in Jesus, he got a piggyback on Jesus into paradise (show the crosses interlinked and hold them high, image 2).  Because we are messed up humans, we don't have the strength to make it to heaven on our own.  We need a "lift" from someone who is able to reach God – and Jesus can do that because He is the Son of God.  The arms of his cross lift the arms of our cross like a parent giving a child a piggyback.  Now you can go home and tell your parents about how Jesus gives piggybacks too.
-Jesse Joyner
Jesse is a juggler who entertains and inspires.  Learn more about him at www.JesseTheJuggler.com
Free DVD Giveaway!  Sign up for Jesse's newsletter and be entered to win one of 5 of Jesse's "Live Show" DVD's that he's giving away.  You enter by signing up for the free newsletter here before midnight of Easter day, 2012, EST.  One entry per person.  No purchase necessary.  Here is the link to sign up: http://eepurl.com/kryjP