Content
Theme
Music
Ease of Use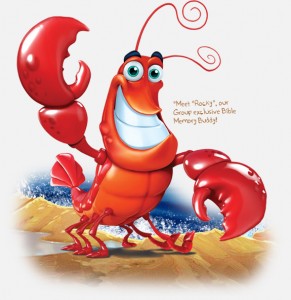 If you don't do VBS today or if the traditional 5-day VBS just isn't working for your church…maybe you should take a look at Group's Weekend VBS – Rocky Point Lighthouse.
Content – Kids will learn how Jesus will bring light to their life and how they can shine God's love to the world around them!
Theme – Kids will explore the shore around Rocky Point Lighthouse as they learn to "shine the light"!
Music - Great music, up-beat and full of enthusiasm! Kids will LOVE these songs!
Ease of Use – The director's book is very complete, each station leader's book clearly spells out what you need to do and how to do it. This resource is tremendously easy to use – and you'll find a lot of options for a three-day event!
Value – one kit is available for $64.99 – Student materials cost – $9.99 for ten Rocky Bible Memory Buddies – I really like this and would definitely get them at a dollar per child!, $14.99 for ten sets of Shine God's Light poster & sticker sets, and $7.99 for ten Shine God's Light wristbands – a cost of approx. $3.30 per child. If you decide to use the Operation Kid-to-Kid Backpack Kits – there is an additional cost of $14.99 for ten backpacks and if you choose the souper service gift bags, there is an additional cost of $4.59 for a package of ten.
Read Lynda's Full Review here: About the Children's Department