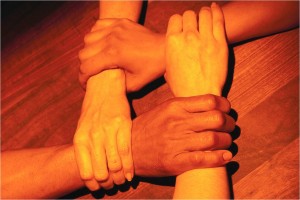 What things get you excited and stirred up about your Children's Ministry? What makes you look forward to the week / month / year ahead?
Well 2011 was a trying year for our church. Our old building burned down and everything we had was lost in an instant but what a time we have had leaning into God and His promises for us, including our children and their futures.
Our friends at a local Baptist Church have generously loaned their building to us on Sunday mornings as they have grown in numbers. Whilst this has been so very good and facilitated our meeting, we, as a church, have grown not just in numbers but as a people focused on the Father and all that He has in store. We have combined our various age-groups with elementary and pre-teens grouped together for the time being in one room. This has been trying at times but fun also and rewarding.
However, we are now preparing to move into our new building and whilst I am mostly excited about our children's ministry, I am even more so now! I get to work with our pre-teens group and we will be separated and I simply can't wait to see them explode now. I know there is so much within them and realise they are sometimes holding back when in combined lessons with the younger children and at times want to speak up and be bolder ~ but this time is right around the corner and I look forward to be blown away by them.
One thing I am planning to do with them also is a mid-week session and to begin a pre-youth youth group almost. My focus and heart is for them to establish and build on the relationships they have with each other so the transition to youth is much easier for them, as well as teaching them the importance of fellowship and how enjoyable it can be.
1 How good and pleasant it is when brothers live together in unity!
2 It is like precious oil poured on the head, running down on the beard,
running down on Aaron's beard, down upon the collar of his robes.
3 It is as if the dew of Hermon were falling on Mount Zion.
For there the Lord bestows his blessing, even life forevermore.
When I read Psalm 133 and think of our children and what lies in store for them, I can't help but feel excited for them. There are so many possibilities but the biggest and best for me is the vision of fellowship flowing through them, because as it ends in the Psalm, this is where the Lord bestows His blessing!
Someone please join me in saying, "Come On!"