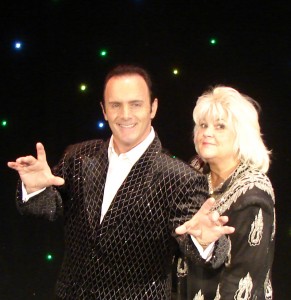 This weekend Christy, Tanner & I spent three days in Tampa.  It's Spring Break for my kids and we had the opportunity to split our time between learning something new and playing at the Amusement Park.
We started at Busch Gardens on Thursday, Adam was with us for this part of the weekend, and only stayed a few hours at the park.  Being at the park during Spring Break reminded us of why we prefer to come when it's not a holiday! We did manage to get soaking wet on the River Rapids ride! Wow! It was cold!
But, moving on to what I would like to share in this blog.  It was great to spend time with my kids doing things we like to do together. Riding rides at an Amusement Park and staying in a Hotel are two of our favorite things.  For me this is really all about building memories…FUN memories with my kids.
The learning part of our weekend included attending the Magic 4 Him Conference. Their mission statement: "MagicforHIM Creative Ministries is designed to help spread the gospel throughout the world, encourage the body of Christ through positive programs with an excellent network of entertainers and to provide training and resources for Christian workers in schools, churches and all walks of life." Thanks to Gary Barker and his team we had the opportunity to meet some new friends and learn new stuff.  Now, that's a Win-Win.
One of the highlights for us was getting to meet Duane & Mary Laflin. Duane is Christian Illusionist along with Mary his "lovely assistant." What a great couple with an awesome testimony to their faith.  Duane was especially kind an attentive to Tanner and Christy this weekend.  That brings me to the point of this article.
Duane's interaction with my kids made an incredible impression on them.  Even though he was involved as both a Key Note Speaker and Featured performer he always had a smile and kind word for my kids.  He intentionally involved both of them in his lectures and demonstrations.  This made all the difference in the world for two kids who were attending a ministry conference designed for adults.
The key point here is: Are we intentional about how we interact with children wherever we go? …no matter what else is going on?…regardless of what other pressures are on us at the moment? Remember as Children's Leaders we should follow the example set by Jesus.
Jesus said, "Let the little children come to me, and do not hinder them, for the kingdom of heaven belongs to such as these."  Matthew 19:14
Let's be intentional about how we interact with children all the time.