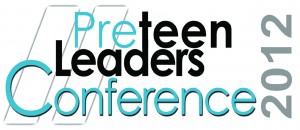 I am super excited about the Preteen Leaders' Conference coming up in April. The conference is put on by FourFiveSix, a group dedicated to helping your preteen ministry take the next step. You can get full details at PreteenLeadersConference.com.
We are pumped to have Stephen Hibdon, creative director at J12 ministries, lead a workshop at the conference. J12 is a fantastic organization, you should visit them at j12.com. I got a chance to do a Q & A session with Stephen and wanted to share it with you.
Tell us about your journey to reach preteens.
I attended a preteen event at our church called the J12 Encounter that was sponsored by our children's ministry because I had a preteen of my own. The speaker, Gregg Johnson began to pour out a vision to raise the bar of what we can see our tweens become. He shouted the prophetic phrase, "the prodigal son is not the only model – why not see our kids be like Jesus at 12?!"
As I listened, it wasn't long before I knew I needed to have a big conversation with our Senior Pastor. The reason being, I was the high school youth pastor and now my youth paradigm was rocked by this idea of "reaching them before they need to be rescued".
Before I knew it, we were launching a J12 Preteen ministry, and we started the most exciting and fulfilling ride I've ever been on.
Why do you think preteen ministry is important?
We live in a moment in history where there is no single segment of society with a larger target on their back than 8-12 year olds. Because of this, they are growing up faster than ever before. They need purpose, identity, and a role model who trump mainstream fashion, music, movies, and television. Effective preteen ministry can deliver that to their world and ensure their trajectory going forward to equal success.
Why are you excited about the preteen leaders conference?
Because there is nothing else like it, that I am aware of. One focus – preteens! That is awesome! I am inspired and motivated by all of the speakers that will be sharing, and looking forward to connecting with so many that make preteens their passion!
Tell us about your role on staff at J12.
As Creative Director for J12, the most rewarding aspect of the daily walk is to watch churches blaze new trails by launching Preteen specific ministries. Often, they are in places that have done children's ministry the same for so long, and may do a great job. But when this new paradigm is presented through curriculum and conferences, we are able to see their eyes light up as they find traction to engage a group they may have been missing. This result is what drives me to continue writing and speaking at churches, as we partner to help our kids own their faith early.