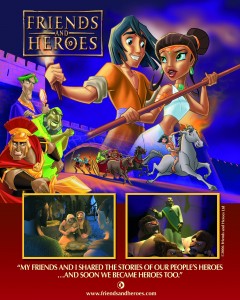 March is here and that means the Easter is coming! With the approach of Easter comes a time of reflection for most of us and for Kidmin Leaders it brings an opportunity to focus on Jesus' resurrection. Each year we look for ways to creatively retell this incredible story in the hopes that more children will grasp the significance of this event.
With all the chocolate, eggs and bunnies it can be difficult to break through and focus a child's attention on the significance of Easter.  The very mention of the word brings about pictures of WalMart filled to the rafters with baskets and candy. It's in this atmosphere that we as Children's Ministry leaders strive to point kids to Jesus.
Our friends at Friends and Heroes (pun intended) have produced a product that can help families discover the questions "Why does Easter Matter?"   This is a five session telling of the Easter story from Jesus' ride into Jerusalem through the crucifixion and to his being seen on the road to Emmaus.  This is Group/Family material provided on CD-ROM which includes a Public Display License.
This set, of course, includes the dynamic animation that we have come to appreciate from Friends and Heroes.  Along with music that will stir hearts and move your soul.
Each session features:
Prayer Time
Session Background
Friends and Heroes Episode
Bible Reading
Question Time
All-Age Optional Extras
"This five-session Easter course was created with everyone in mind, but in particular we have created it for groups of people who are meeting together to meditate in some way on the Easter Story. What is unique about this course is that it includes children.  This makes it ideal for a family or even a group of families to use together."
I would highly recommend this series to Kidmin Leaders and Parents who desire to help their children focus on the true meaning of Easter.  You can visit the Friend and Heroes website to get more information and order your copy of "Why does Easter matter?"