Content
Theme
Music
Ease of Use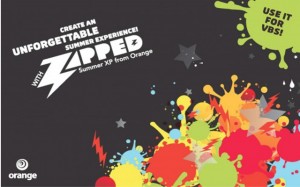 Zapped by ReThink
Content – Kids will take a look at how we can all be zapped by God's love. They will see when they are "zapped" it changes the way they think, the way they treat others, the choices they make. They're going to journey with Peter and see how he was zapped throughout his life. 
Theme – We'll never be who we are designed to be until we learn how to plug into God's power, grace and love. When we learn that, our lives become Zapped.
Music – Zapped includes the theme song in the materials and a credit for three additional children's ministry songs and five preschool songs – beyond this, you'll have to find or purchase additional music
Ease of Use – Everything is on the discs included in the package – just download and print what you need. You have the option of using the video for each Bible lesson, or using the provided script and presenting them yourself – same for the opening and closing dramas. I'd lean towards not using the videos – especially for the Bible lessons. More information for directors would help this curriculum be easier to use – especially for non-tech people such as myself!
Value – one kit is available for $200.00 ($160.00 through Feb. 29, 2012)
Cost per student . . .
Music is not reproducible, so you have to purchase CDs to give kids at a cost of $15.00 per CD if you want them to have music (maybe one per family)

Zapped Bottom Line Buttons – I could not find prices/ordering info, but once this is available, I'd definitely get them for the kids

Student Books -  $11 for a pack of ten student books

Zapped Slap Bracelets – $10 for ten bracelets