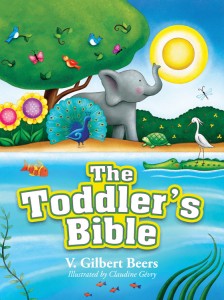 Recently, I was provided a copy of The Toddler's Bible by V. Gilbert Beers from David C. Cook to review. I must confess I really enjoy receiving new books and getting an opportunity to get a "sneak peak" at what's coming in the world of Children's Ministry and Children's Literature.  This particular Bible is aimed at the very youngest of our children and I think that is wonderful.  An early introduction to the Word can lead to a life-long love and appreciation of the Bible.
Things I love about the Toddler's Bible:
Amazing Artwork: The Toddler's Bible cover will immediately demonstrate the vivid illustrations created by Claudine Gévry. These illustrations will draw young readers into the story and help hold their attention.
Bible References: Each story is written in developmentally appropriate language and the Table of Contents includes the source Scripture passages. It's always better to lead children to the scriptures rather than attempt to replace them.
Author introduction: The Toddler's Bible includes a helpful guide for parents and teachers as they use the book to lead and teach toddlers.
Lessons:  At the end of The Toddler's Bible there is an outline of the attributes of God that children learn from immersing themselves in God's Word.  It demonstrates that the Bible reveals more than just historical events, it reveals to us the true character of God.
The Toddler's Bible is a classic.  The 101 Bible stories are perfectly chosen to excite the imaginations of toddlers. The the language used has been crafted specifically for two and three-year-olds. This Bible draws toddlers into interaction by asking them questions, or suggesting that they find certain details on the page. That's what really sets The Toddler's Bible apart, it uses wonder-inspiring storytelling.
If you are looking for a great Bible for a toddler, I would highly recommend the updated edition of The Toddler's Bible.