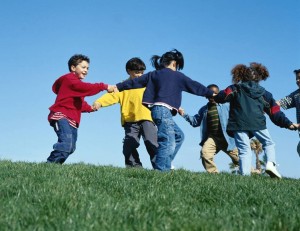 Play is critically important to children's development, healthy growth, well-being, creativity and ability to learn.  'Play underpins all development and learning for young children. Most children play spontaneously, although some may need adult support,  and it is through play that they develop intellectually, creatively,  physically, socially and emotionally.'1  The right to play and informal recreation for all children and young people up to 18 years of age is enshrined in article 31 of the UN Convention on the rights of the child.
As service providers, curriculum developers, pastors, ministers, volunteers and parents it is vitally important that we fully understand the importance of play and engage with strategies and tools that allow our kids to benefit from the art of play itself.  Children get most benefit when adults understand that play and active first-hand experience is fundamental to their development.
You can assist in your children's development by creating a space that has a playful approach to play and planned activities.  Creating an environment that listens and values children's contribution will also help create a healthy fun learning space.
Children of all ages play instinctively if given the time, space, opportunity and permission to do so.  Let's try to make our Kidz Church, Sunday School class rooms and  kids spaces, a place where our children are free to explore and learn through play in an encouraging, loving and engaging environment.

1 DfES (2007a) Early Years Foundation Stage: Practice Guidance. London: Department for Education and Skills/The Stationery Office.