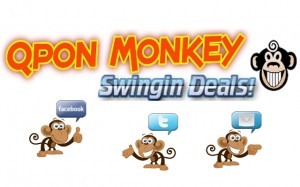 Why Qpon Monkey?
Qpon Monkey was created to provide the very best deals for those individuals involved in ministry.  Yes, it's a coupon site designed specifically to help stretch your ministry budget. At the same time we hope to give you honest straight forward reviews of products written by ministers serving in the local church.
One of the best ways to save money on purchases that you make for your ministry is to use Qpon Monkey Coupons. Coupons are those handy little documents and codes that are used to get a discount off of the regular price of an item. Using coupons could save you thousands of dollars, which could then help to increase your impact for the Kingdom.
On Qpon Monkey we will have both Coupon Codes that you can use immediately on our Sponsors Websites and Printable Coupons.  Our goal is SAVE you Money while introducing you to Publishers and Ministries that can aid you in your mission to reach and teach.
Do you have a Product or Ministry that you would like to see included on Qpon Monkey?  It's really easy…simply click on the "Submit a Coupon" button and complete the form.  We will get started right away on getting it posted on Qpon Monkey.  The best part…IT'S FREE!
GIVEAWAYS! We have some really generous product providers and one of the benefits of visiting Qpon Monkey often will be the opportunity to WIN! Everybody loves to win FREE Stuff. So, be sure you enter for your chance to win!
We would love to hear from you!  Tell us about the type of things you would like to see included on Qpon Monkey.  Write a Review of a Ministry Product or Service that you have recently purchased.  Leave a comment and give us your feedback.