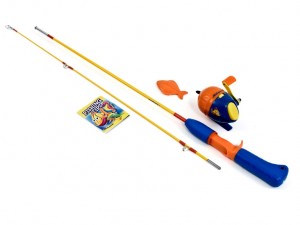 Sunday I took Julie, Tanner and Christy to Hudson Beach to fish.  The sun was out, music was playing at a nearby restaurant, and it was a beautiful afternoon.  As we cast their lines into the water it didn't take long for the fish to begin biting. Very quickly we had a stringer full of small fish.  It was great fun and the excitement of my kids was infectious.  In stark contrast, just the day before Tanner and I were fishing in King's Bay and caught absolutely nothing. Same fishermen, same tools, same bait…totally different outcome!
This morning I began to think about these two experiences as they relate to Children's Ministry and Kids.  In the world of Kidmin we are all fishing for kids with widely varied results.  So what's the catch? (pun intended) What can we offer to kids and parents that will attract them and keep them?
Sunday Morning Experiences Designed to Attract & Keep Kids
Games – I love games…all types of games…athletic games…participation games…board games…all of them!   We use games every Sunday for a variety of different reasons.  Games are FUN – Fun is the language of kids! Games can help communicate a lesson point.  Games help to build relationships. We are releasing a FREE downloadable Game Book on Feb 5th – Watch for it!
Relevant Music – I remember "This Little Light of Mine" "Father Abraham" & "Jesus Loves the Little Children" – but I don't use these in my Sunday morning worship set with my kids.  Why?  We use music that our kids and parents love.  It's music that they relate too and enjoy outside of church.  We want our kids humming and singing the songs all week long.
Scripture Memory – It never goes out of style.  Memorizing scripture is one of the best ways to help build a strong spiritual foundation in kids. How we choose to present and encourage scripture memory is critical to kids seeing the value.  Be creative…have FUN…kids will participate!
Bible – Use it every week!  We encourage our kids to bring their Bibles to church every week.  We tell them we are going to open it and read every Sunday and they don't want to miss out on what God says to them.  We also use this as an opportunity to teach them how to use their Bible. If a child does not have a Bible we give them one to keep.
These are the strategic elements that we utilize every Sunday morning with our kids.  Our goal is for every child to enjoy attending church and to go home knowing the Key Point of the day.  We want to be not only fishing for kids but keeping them connected to Jesus too.  What are some of the key elements of your primary worship service for kids?