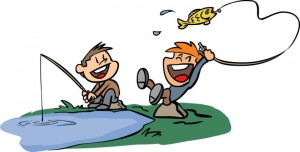 Wednesday I shared about our fishing trips last weekend.  How we had no success the first day in Kings Bay and incredible success the next day on Hudson Beach.  Same fishermen, same tools, same bait…totally different result!
Have you ever thought about your Children's Ministry in the context of where you are fishing? One of the things that I have realized here in Crystal River is we can't just depend on getting the fish (kids) to come to us.  We have great tools, an awesome story to share and a team that cares.  But, if we stay right in our own little pond we  will never reach all the kids that we could. We are committed to getting outside  of our pond (the walls of the church) and stepping into the world in which our kids live!
Here are a few of the things we have going now and we have in the planning stages for the fall:
1. Volunteering at the local Elementary Schools – every school in our area  is seeking more volunteers.  What a way to meet kids.  They are at school because it is mandatory are  the teachers are overwhelmed by the number of kids they must teach. We can step in as tutors and mentors and make a difference for the school and the child.  At the same time we are building relationships with both teachers and kids.
2. Volunteering at the local Libraries this Summer – Every library offers summer programs that attract kids.  Every mom is looking for things that they can do with their kids this summer.  We have five libraries in our county.  We have been scheduled to present three programs at each of the libraries the summer.  That puts us in front of 100's of kids that may have never entered our church.
3. Presenting Character Programs at Elementary Schools – We are currently in discussions with our Elementary Schools about presenting programs that teach good character, anti-bullying, etc. Again, this gives us an opportunity to meet and interact with 100's of kids that have not been to our church yet.
Let's be creative in how we reach kids! The philosophy of "build it and they will come" has run it's course.  Stepping out into the world in which kids live needs to be part of our strategy for sharing the Gospel.  What creative ways are you and your team using to reach kids?