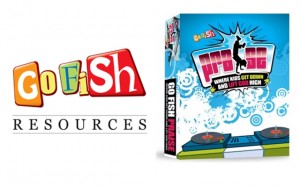 We are excited to announce our recent partnership with Go Fish Guys. Who are the Go Fish Guys?  So glad you asked!
They are acclaimed family entertainers who when they hatched a seemingly hair-brained scheme to bring hymns to kids, the beloved group—who, among numerous accolades, has appeared on The Today Show and performed before a capacity crowd at St. Paul's Xcel Energy Center—just might have known what they were doing.
"Technology has come so far so fast, and people just want the latest and greatest hip new thing.  But a lot of the 'meat and potatoes' get lost," says Jason, dad to a toddler of his own.  "Keeping in mind our audience, that kids are our focus and especially families with young kids, we wanted to pass foundational songs down to the next generation—songs that were important to us growing up."  
Be sure to visit their website Go Fish Guys to read more about them!  This year they are releasing the latest VBS Project "Praise"  and here's your opportunity to take a look at a preview:

CHECK OUT OUR SUPER VBS GIVEAWAY IN THE RIGHT SIDE COLUMN AND ENTER TO WIN!!