Content
Theme
Music
Ease of Use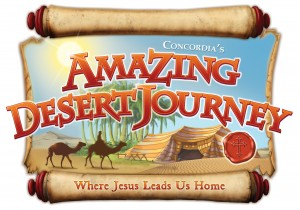 Over the next two weeks here at CM Buzz we will be sharing reviews of 16 different VBS Programs.  With summer quickly approaching and VBS being a major event we hope these reviews will be beneficial as you endeavor to provide an exceptional experience for the children of your community.  We also recognize that VBS is a significant financial investment for your Children's Ministry.  Lynda Freeman, a regular writer for CM Buzz has had the opportunity to preview each of these 2012 VBS Kits and will be sharing observations and recommendations.  Without further delay our first 2012 VBS Review:
#10 Amazing Desert Journey by Concordia Publishing House
Content – Children will learn about Adam and Eve leaving the garden; God provides manna and water; when Jesus was tempted; Jesus died and rose again; and a Heavenly multitude.
Theme - Kids will "journey" through the desert and learn about God's plan to rescue them from sin and death through His Son, Jesus, Who is even now preparing a Heavenly home for them and for all who believe!
Music – Songs for this VBS have a desert/eastern sound to them and fit well with the theme for the Amazing Desert Journey – there are seven songs: Amazing Desert Journey, Shout for Joy, God's Caravan, Rejoice, Guide Me Ever, Journey with Jesus, and On a Journey
Ease of Use – Amazing Desert Journey is very easy to use – the director's book is very complete and the teacher's books are clearly laid out and easy to follow.
Value – kit is available for $129.99.
Cost per student . . .
Music is not reproducible, so you would have to purchase CDs to give kids ranging in price from $3.99 to $4.99 per CD – depending on how many you purchase.
Caravan Collectibles range in price from $2.99 to $3.49 per child depending on the amount you purchase.
Cross carabineers – $6.99 for a package of 12.
Name tags – $2.99 for packages of 10
Desert Doodads – $14.99 for a package of 10
Student Travel Journals –  $2.99 per student
Crafts range in price from $7.99 to $9.99 for packages of 12