Content
Theme
Music
Ease of Use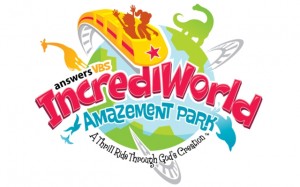 IncrediWorld Amazement Park – a thrill ride through God's creation!
Answers in Genesis
Content – Kids will learn about creation and what it means to have a Biblical worldview as they learn about creation, what it means to get your view of the world from the Bible, why their view of creation affects their view of the gospel, take a closer look at creation's design and see where the Bible talks about dinosaurs!
Theme - Kids take a thrill ride through God's creation where they come face-to-face with God's incredible world of wonders and go wild learning we always start with the Bible because it is always true!
Music – Big improvement in the music this year – it is from Patch the Pirate and  is available with a Contemporary or Traditional sound giving churches options
Ease of Use – IncrediWorld Amazement Park is very easy to use – the director's book is very complete and the teacher's books are clearly laid out and easy to follow.
Value – two kits are available – starter kit for $99 and super starter kit for $189.
Cost per student . . .
music is not reproducible, so you would have to purchase cds to give kids at a cost of $19.99 for 10 CDs.
Incredibles collectible cards are available at a cost of $4.99 for five children
name tags are available in packages of 60 for $3.99
lanyards cost $6.99 for 10
Student  Guides are available at $9.99 for a package of 10.