Content
Theme
Music
Ease of Use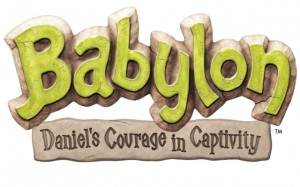 #9 – Babylon by Group Publishing
Content – Kids and adults will learn what it meant for Daniel and his friends to live out their faith in a faithless culture and be challenged to choose to live their faith in their everyday lives, every day as they learn about; how Daniel and his friends were captured and taken to Babylon, when Daniel interpreted Nebuchadnezzer's dream, Shadrach, Meshach and Abednego survive the fiery furnace, Daniel chooses to pray even though it may get him in trouble and how God saved Daniel from the lions!
Theme – as kids and adults "journey" to "Ancient Babylon" each day, they'll discover they're not much different from Daniel and his friends – and they too can courageously keep faith in a faithless culture
Music - Group's music is what we have come to expect from Group – original, new songs which fit their theme and familiar praise songs, all presented with excellent music and motions and chosen to reinforce the Bible lessons – sure to become favorites for churches everywhere. This year the songs are – Through it All, Watching Over You, Stand Firm, Only a Prayer Away, Awesome God, Amazing Grace (My Chains are Gone), Where Do I Go, How Can I Keep From Singing, Jehovah Jireh and We Bow Down.
Ease of Use – You might think a VBS/event with a Bible theme, Marketplace shops, and different "locations" would be complicated to pull off, but Group makes it easy with all the information they provide and step by step directions. Group breaks each part down into do-able portions which when they are all put together, allows you to create "Ancient Babyon"!
Cost – One kit is available at the cost of $124.99.
Cost per student . . .
Music is not reproducible, so you would have to purchase cds to give kids at a cost ranging from $6.99 – $4.99 per child/family depending on how many you purchase.
Bible Memory Makers range in price from $2.79 – $3.19 per child – depending on how many you purchase
Babylon carabiners are $5.99 for a package of 10
Name badges are available in packages of 10 for $4.19
Name badge holders costing $15.99 for 10
Bugs Pray-er Clips $5.99 for 10 and they recommend one per child.
Student books/postcards are available at $3.19 per child/family.
 Crafts range in price from $7.49 – $19.99 for packs of 10.
Tribe Banduras cost $17.99 for 12.

Click Here to see more of Babylon by Group Publishing
Read Lynda's in-depth Review at Top Ten Countdown for Vacation Bible School 2012- Babylon