Content
Theme
Music
Ease of Use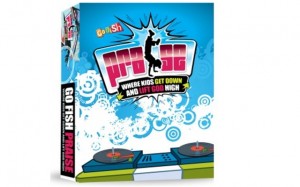 Praise by Go Fish Guys
Content – Kids will praise God for His Greatness, Authority, Providence, Power and Love as they learn about Shadrach, Meshach & Abednego, Daniel the lions and King Darius, Paul and Silas, how Jesus died on the cross, was buried and rose from the grave, and God gives us the Holy Spirit to show us we are His and He will never leave us!
Theme – This year Go Fish takes kids to a city street scene with a focus on music and praising God. As Go Fish says, "We want to show kids they exist not for their own glory, but to give God praise! In a fun way, we hope to show kids what it means to have a high view of our amazing God. We want them to get down and lift God high!"
Music – Go Fish Praise is my Top Pick for VBS Music 2012! It is awesome! These are songs kids of all ages – and adults, too – will want to keep singing long after VBS is over! The songs have all the enthusiasm, harmonies, solid messages and fun you would expect from Go Fish! In addition, some of the songs are from Denver and the Mile High Orchestra – which only adds to the enthusiasm of and for these songs! There are eight songs in the VBS this year and include; Shackles (Praise You), Movin' to the Beat, If You're Happy and You Know, All of My Heart, Sunday School Swing, The Crazy Dance, I'll Do My Best and Get Down.
Ease of Use – Praise is easy to use – each station resource is clearly designed and easy to follow. The director's book has most of the information you need, but you will need to find information elsewhere on screening and training your volunteers along with a check list for making sure your facilities are safe and ready for the kids.
Value – one kit is available at the cost of $199.00.
Cost per student . . .
Music is not reproducible, so you would have to purchase CDs to give kids – they have a special combo pack where you are able to get one CD and one official VIP pass/lanyard for $5 per child.
Student activity sheets are reproducible so you would just have your copying costs.
Praise T-shirts are available for $12 each
Praise DVDs for $15 each

Click Here to see more of Praise by Go Fish Guys
Read Lynda's in-depth Review at Top Ten Countdown For Vacation Bible School 2012 – Praise