Content
Theme
Music
Ease of Use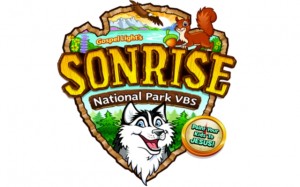 SonRise National Park by Gospel Light
Content – Kids will learn they can always depend on Jesus and His promises as they learn Jesus gives us peace no matter what problems we face, Jesus knows what we need and will provide what's best for us, Jesus shows us how to depend on God's powerful Word when we are tempted to sin, Jesus loves us so much He died and rose again so we can be members of His family, and Jesus is with us so we can be fearless about our future!
Theme – As kids explore SonRise National Park, they'll discover the most important survival skill of all: they can always depend on Jesus and His promises of true peace, riches, power, love and hope!
Music – Gospel Light's music is very high energy and connects solidly to their scope and sequence. The CD has six original songs, Cool Cool Summer, Forever Safe, My God Will Meet All Your Needs, It is Written, This is How We Know and We Wait in Hope for the Lord – the songs were written by Jamie Owens Collins, Joey Walker and Caleb Price. Some of them had a "metallic" sound, I didn't particularly enjoy, but kids might. The CD also includes two preschool songs, Give Thanks and God with You by Judy and Marc Roth.
Ease of Use – For the most part SonRise National Park is easy to use, but it would be better if they included a Bible lesson station book with a lesson for all elementary ages for those church where they want to use a learning station format in place of a classroom format. If they did this, they could take their great hands-on nature projects and put them in a book for a Bible Learning Activity station!
Value – two kits are available at the cost of $79.99 for the starter kit and $199.99 for the super starter kit.
Cost per student . . .
music is not reproducible, so you would have to purchase CDs to give kids at a cost of $19.99 for 10 CDs.
Connection Cards/Carabiners at a cost of $3.99 for cards and $3.99 for carabiners – enough of each for five children.
Name tags are available in packages of 50 for $7.99
Name Tag Holders at a cost of $7.99 for 12.
Student activity sheets are available at a cost of $2.60 per child