Content
Theme
Music
Ease of Use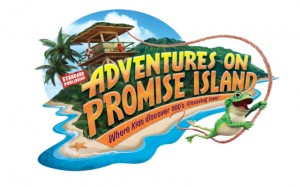 TOP VBS PICK OF 2012
Adventures on Promise Island byStandard Publishing
Content – Kids will learn God's promises to be with us, care about us, to give us what we need, save us and answer us are for them, too, as they learn about Shadrach, Meshach and Abednego, how Jesus cared for Mary, Martha and Lazarus, a time when Jesus helped a man brought by four friends, when Jesus died to save us, and how God answered the prayers of Paul and Silas!
Theme – In the sunshine on Promise Island children will see God at work in the lives of Old and New Testament Bible people and they will see God's powerful, unchanging, lifesaving love!
Music - Yancy wrote most of the songs and kids – and adults – will love them! She wrote ten of the songs – His Promise Is Forever, Always with Us, Standing on the Promises, God Cares About Me, All Things, Forever Today and Always, God Loved the World, When We Pray, As Long As I Live and There Are Promises. Yancy does an amazing job with songs which have solid messages, a strong focus on "promises", "pep" and a sound kids will love! These songs will certainly have "life" beyond VBS! I hope Standard has Yancy write and sing their songs for VBS 2013!
Ease of Use – Standard's kit is very easy to use, they provide a wealth of resources and explain each one thoroughly. The director's manual is one of the most complete – it covers everything a VBS director needs to know, all information is very easy to find and refer back to whenever you need it.
Value – two kits are available – basic kit for $69.99 and power pak for $199.99.
Cost per student . . .
music is reproducible, so whatever your cost is to copy each child could have their own copy of the music – this is a big "plus"
you can purchase cds to give kids at 10 for $19.99!
Bible Pin Pals are $3.99 per child
nametags & lanyards are 10 for $6.99.
Student books are used in the classroom setting at $2.99 per child.
Crafts are available through S&S Worldwide and range in price from 54 cents per child to $2.25 per child.